11 Days 4×4 Self Drive Uganda Adventure You Should Try Out
Uganda's diverse tourist attractions, political stability, good communication and transport network have turned it into one of the most visited countries in Africa. The majority of adventure seekers love to drive themselves as a way of cutting costs plus its more flexible and offers you the freedom to drive to any destination at your own pace. If you are planning an adventure road trip in Uganda, then you will require a strong and reliable 4×4 car that suits your personal interests and budget.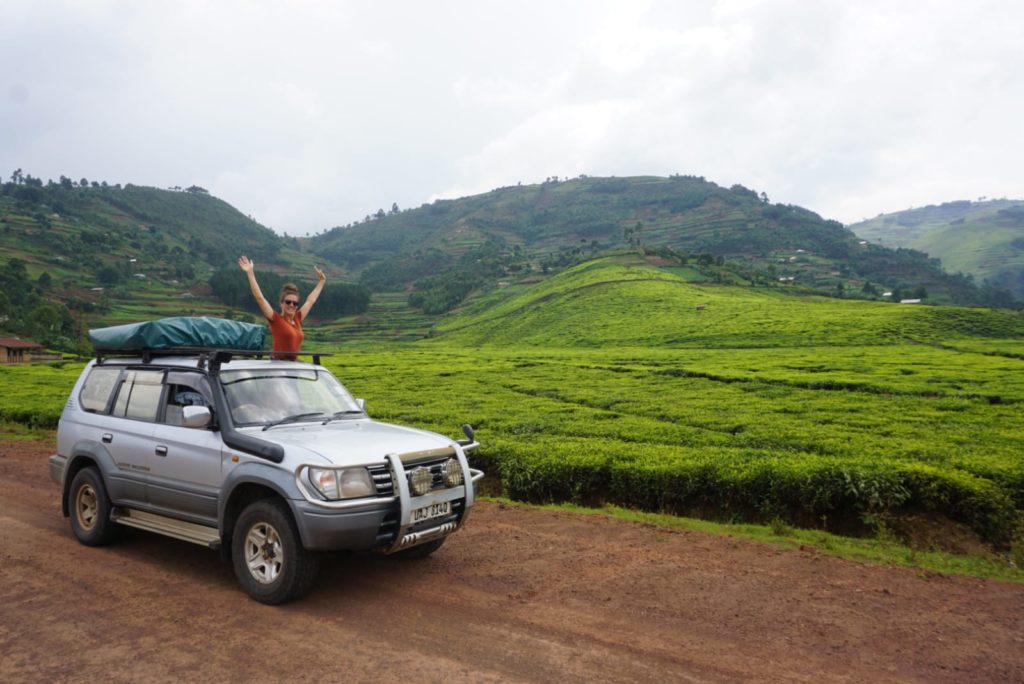 There are a variety of 4×4 cars for hire in Uganda ideal for park tours, city trips, projects and research but the most popular four-wheel drive cars include the safari land cruiser, safari van, Hilux, Land cruiser Prado and the Toyota Rav4 which is by far the most affordable 4×4 car for self drive in Uganda.
There are plenty of destinations to visit and things to do but if you are looking for pure adventure, then you should try out this 10 days adventure tour in Uganda with a reliable 4×4 car. We have also included activities to do and most affordable accommodation per destination.
Day 1– Pick-up your rental car from Entebbe airport and drive to hotel Okra house, Lakepoint Villa, Entebbe Palm Hotel,  Oslo Gardens Bed & Breakfast or  Victoria Breeze Suites. Check-in and take a stroll around Entebbe.
 Day 2 – Drive from Entebbe to Murchison falls park passing via Kampala where you make a stop over for some mall shopping before you head off to Murchison falls national park. The road trip will last about 5 hours using the Kampala Masindi road. You can pass through the southern gates of Kichumbanyobo or Masindi gate. Check-in at Fort Murchison lodge, Red chili rest camp or Murchison backpackers.
Day 3 – Enjoy an early breakfast and prepare a self drive game viewing trip in Murchison falls park where you will get a chance to encounter a variety of mammal and bird species most especially the early risers and night hunters heading back home. Remember to maintain a speed of not more than 40 km per hour and avoid hooting and getting of game tracks.  Drive back to the lodge for your lunch and relaxation before driving to Paara dock where you will leave your 4×4 car and hop on boat cruise taking you the bottom of the Murchison falls. It only costs US$ 30 per person and lasts about 2 hours.
Day 4 – Continue your 4×4 self drive Uganda adventure with a trip to Kibale forest using the Masaka road. The road trip will last about 5 hours and 17 mins with a brief stopover for lunch in Fort Portal.  Check-in at Kibale forest camp, Kibale river camp, Karungi camp.
Day 5 – Enjoy an early breakfast before embarking on a chimpanzee-tracking adventure in Kibale. Drive to Kanyanchu center for briefing and last-minute preparations. Head off into the forest with a guide, expect to see various birds & primates including the chimpanzees, L'Hoest monkeys, olive baboons, blue monkeys among others
Day 6 –  Your Uganda self drive adventure continues with a trip to Queen Elizabeth national park. The road trip lasts about 1 hour & 43 minutes using the Fort Portal – Mpondwe road. Check-in at Bush lodge, Simba safari camp  or River Ishasha safari camp for dinner and overnight stay.
Day 7 –  Enjoy an early breakfast and prepare for a morning drive through the Kasenyi plains where you will get a chance to spot a variety of wildlife in the comfort of your 4×4. Expect good sights of African elephants, waterbucks, hippos and African buffaloes as well plenty of bird species.  Return to the lodge for lunch before driving to the Kazinga channel where you enjoy a 2-hour launch trip.
Day 8 – Your 4×4 adventure then takes you to Bwindi forest, home of the incredible mountain gorillas. The road trip lasts about 5 hours and 14 minutes using the Kabale-Kisoro road. Check-in at Bweza gorilla lodge, Ruhondez lodge, Buhoma community rest camp or Nshongi camp
Day 9 – Drive to the Bwindi park headquarters for briefing and permit checking before you head into the forest in search of one of the most endangered species in the world. Trekking starts at 8am and lasts about 4 to 6 hours depending on the location of the gorilla family. Only an hour will be permitted plus you cannot take flash photos or litter the gorilla forest. You will trek back to where you left your self drive rental car and then drive back to the lodge, you can decide to go for a community tour of the Batwa pygmies or just relax at your lodge and wait for your gorilla trekking certificate.
Day 10 – Your 4×4 self drive Uganda adventure can't be complete without a visit to Jinja city; The Adventure Capital Of East Africa. The road trip will last about 10 hours with stopovers in Mbarara & Kampala city. Check-in at Explorers River Camp or Jinja backpackers. After settling in, you can drive through the city and also get a chance to visit the Source of the Nile; the world's longest river. Do some souvenir shopping at the different Art & crafts markets or local villages. Return to the lodge.
Day 11– You can decide to try out one of the numerous land and water sports adventure. You can drive over to Nalubale rafters and join a group for an exciting whitewater rafting adventure, do some bungee jumping, ride a horse or quad bike. Whatever gets your adrenaline pumping. Return to Kampala or drive back to Entebbe airport.
Looking for that exceptional 4×4 adventure in Uganda, then why not try our above itinerary that combines the best Uganda wildlife & adventure? To rent a car for self drive trip in Uganda, simply get in touch with us by sending an email to info@rentadriveruganda.com or call us now on +256-700135510 to speak with our reservations team
Bryan Muhoozi