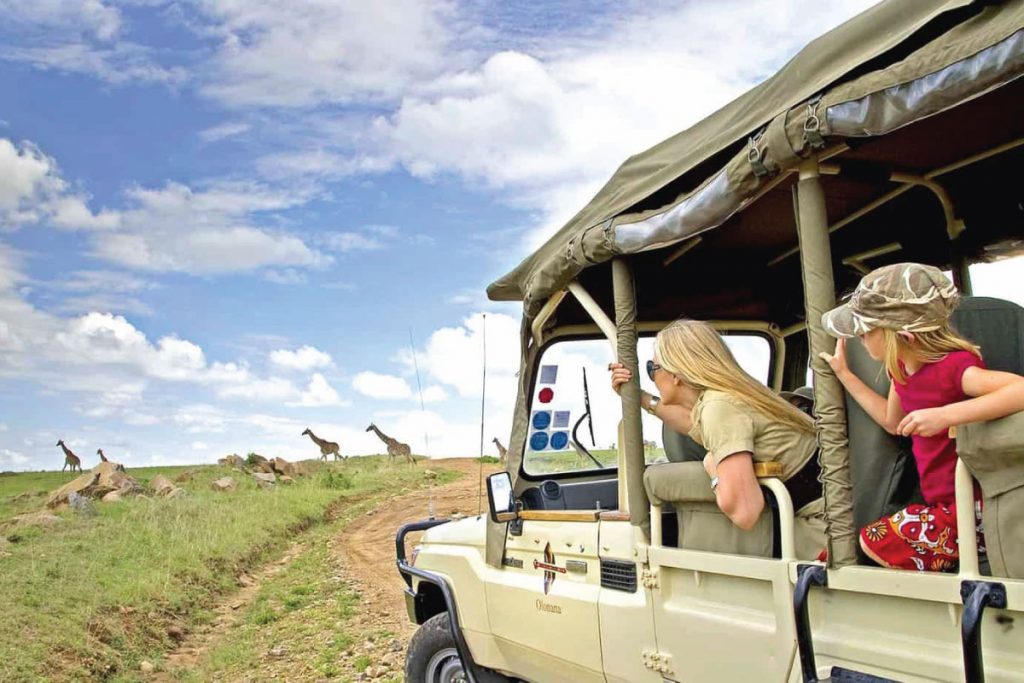 The 5 days Bwindi and Queen Elizabeth national park safari offers you chance to delight in wildlife viewing and primate tracking adventure. The tour takes you to Bwindi impenetrable forest national park for an interesting gorilla trekking experience. You will transfer to Queen Elizabeth national park via Ishasha sector which is a popular home to the fascinating tree climbing lions. Grab a chance to enjoy a boat cruise safari along the Kazinga channel, game drives where you get close to populations of stunning wildlife diversities, guided nature walks among other activities.
Day 1: Transfer to Bwindi impenetrable forest national park.
Today, delight in an early breakfast at the hotel in Kampala or Entebbe, later meet and greet with the company driver guide and set off for the journey. It is an adventurous road trip that take you through the eye-catching greenery landscapes before accessing the park.  Along the way, enjoy your first stop over at the Uganda equator. While here, feel free to stretch, take photos at the Equator line, buy some refreshments and at proceed with the journey driving through Mbarara. You enjoy lunch at Igongo culture Centre in Mbarara and continue to the park driving through Kabale town and finally to the trekking sector in Bwindi forest national.
Accommodation options: NB- this depends on which sector you will be trekking.  Chameleon Hill Lodge -Luxury, Ichumbi gorilla lodge-Mid range, Rushaga Gorilla Haven Lodge / Trekkers Haven- Budget.
Day 2: Gorilla trekking experience in Bwindi forest
Rise early for breakfast and get ready with you packed lunch boxes plus enough drinking water. Your driver guide transfers you the park headquarters for briefing about the trekking exercise. While here, you divided into small groups of 8 people with ranger guides and trackers. At 8am transfer to the starting point and begin the search for the habituated gorilla family. The trekking exercise can last for 30 minutes to almost half a day and upon spotting a gorilla family you will be allowed to spend only hour with them while observing their exciting behavior and lifestyle in the forest such as; how they feed, respond to one another, how they play among others. Feel free to take many photos with the group and the mature silverback gorilla which gives you lifetime safari memories.
After the awesome adventure, return to lodge for a short nap. And if the trekking ends early, take an opportunity to head out for a community walk for cultural encounter with the Batwa or Bakiga tribe of People in Uganda. later return to the lodge to freshen up, have dinner and enjoy an overnight stay.
Day 3: Transfer form Bwindi Forest to Queen Elizabeth national park via Ishasha sector.
After your morning breakfast, check out of the lodge and transfer to Queen Elizabeth National Park.  The drive takes you through the Ishasha sector – the only haven for the tree climbing lion species in Uganda. on a luck day you may get chance to sight some hanging on acacia tree branches. Queen Elizabeth park is as well famous for hosting a variety of stunning wildlife populations plus exciting vegetation which is one of the reasons that makes it the best wildlife safari destination in Uganda. The drive takes you straight to the northern side of the park to your booked lodge. Upon arrival, check in, relax at the lodge and delight in overnight stay.
Accommodation option: Mweya safari lodge – luxury, Marafiki Safari Lodge – Mid range, Simba safari Lodge/ The bush Lodge -Budget option.
Day 4: Experiencing Queen Elizabeth national park
Start your day with a cup of coffee or early breakfast, later take a game drive towards the savannah grasslands of the incredible Kasenyi plains. Kasenyi sector offers astounding game drive experience since it harbors big numbers of a diversity of intriguing wildlife. Expect to sight animals like herds of African Buffaloes, Elephants, bushbucks, Uganda kobs antelopes, warthogs, waterbucks, predators like the lions, hyenas and leopards.  In case you are a bird lover, you encounter numerous bird species that gives your birding tour excellent touch.
Before you sum up the game drive adventure, take a tour to explore the crater lakes like Bunyampaka Salt Lake hosting migratory birds like Flamingos. Return to the lodge and have lunch. In the afternoon, take a transfer to Mweya for boat ride on Kazinga channel that joins Lake George and Lake Edward. During the afternoon hours, many animals gather at the shores of the channel to quench off their thirsty and take a birth, therefore to observe many in big numbers including the permanent residences like the crocodiles, hippos wallowing at the banks as well as many colorful bird species like the egrets, Malachite king eagle. After the 2 hours boat cruise, return to the lodge for dinner and an overnight.
Day 5: Departure back to Kampala
Enjoy a delicious leisure breakfast, check out of the lodge and depart to Kampala driving through Mbarara where you enjoy your enroute lunch and proceed with the journey. Arriving Kampala in the evening, the company driver drops you your hotel of residence or at Entebbe international airport.
End Of Uganda Safari
Incase you searching for a safari to Bwindi forest and Queen Elizabeth national park this season, here at Mumwe Global safaris, we are more than glad to arrange you a tailor-made tour including gorilla permits. For further inquiries and bookings, simply send us an inquiry on info@rentadriveruganda.com or call the reservations team on +256-700135510.