This short safari in the Pearl of Africa takes the traveler to the biggest national park in Uganda- Murchison falls N.P that supports large and impressive populations of lions, African elephants, buffaloes, giraffes and a variety of antelope species. This 2 days tour also allows one to see the magnificent Murchison falls, the mighty waterfalls from which the park borrows its name. These too are a highlight for this safari because they are a wonder –their strength, beauty and sound are so unique.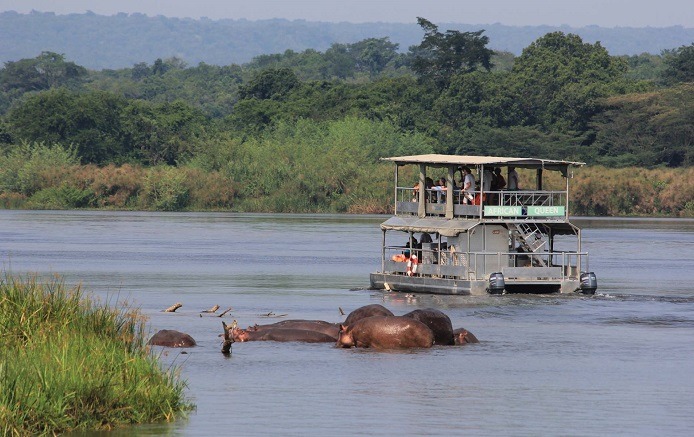 Program for the 2 days Murchison falls safari
Day 1: Transfer from Kampala to Murchison falls national park
Day 2:  Game drive and return to Kampala via Tangi gate
Detailed itinerary of the 2 days Murchison falls safari
Day 1: Pick up and transfer from Kampala to Murchison falls national park
Make sure you are up early enough because the journey starts as early as 6am after meeting the driver guide and a briefing about the day's activities. Journey takes you through Nakasongola plains where you are likely to spot a number of grazing long-horned cattle. A brief stopover at Kabalega Dinners for lunch and proceed through Masindi town, enter the park via the southern gate and drive through Budongo forest where you have a chance to spot primates including black and white colobus monkeys, baboons and others.
Drive straight to the top of the mighty Murchison falls where you get to watch the thunderous falls splashing waters around the rocks. Thereafter transfer to the ferry crossing area, board a boat and head for the afternoon boat cruise that takes you along the River Nile to the bottom of the Murchison waterfalls. Wildlife species spotted during the boat cruise include crocodiles, hippos and various bird species.
After the cruise, the safari driver transfers you to the lodge for dinner and overnight.
Day 2: Morning game drive and return to Kampala
You are expected to rise up early morning and get ready for the morning game drive which starts right after having breakfast at the lodge. The target of the game drive is to spot nocturnal like lions and leopards before they return to their hide outs. The drive also offers a chance to see herds of elephants, buffaloes, giraffes, Uganda kobs and Jackson's hartebeests among others. This awesome exploration ends after about 5 hours and you proceed out of the park back to Kampala.
End of the tour
RATES –
Quoted based on two travelers;
Luxury– $1700 per person
Midrange-$1,430 per person
Budget-$1,300 per person
If you have limited time around Uganda and would like to experience her natural beauty, this 2 days Murchison safari is a pretty brief way to explore. You can rent a car for self drive to Murchison falls park or get a tour guide to accompany you on the trip. To book or inquire, simply contact us today through info@rentadriveruganda.com or call us on +256-700135510/ +256-414699459 to speak to the reservations personel.