Are you searching for dreamlife Safari Cars to hire for your future trip in the Pearl of Africa? Book with Mumwe Safaris Uganda one of the leading local car rental agency in Uganda. We pride in offering a wide range of 4×4 safari vehicles at the most affordable and reliable car hire services. our safari vehicles options are easy for a self-drive safari although you can opt to hire your safari car with an exceptional and experienced driver.
Upon arrival at Entebbe International airport, delight in a transfer to your hotel of residence in either Entebbe or Kampala with a safari vehicle which gives you an insight to explore the Pearl of Africa peak.  We offer a wide range of 4×4 safari car rental fleet where you get a chance to select your favorite. Our Safari options have been rated extremely good for all African terrain by a lot of Visitors that have used them before.
Our safari car rental fleet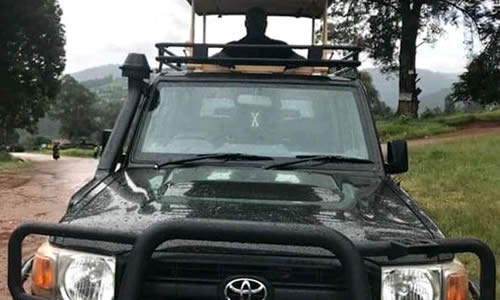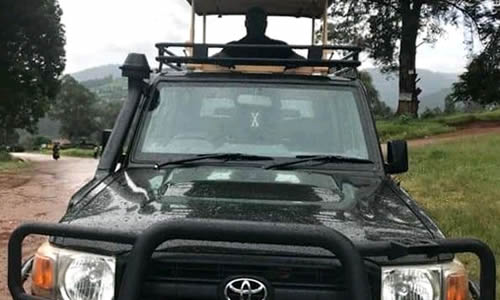 Our safari Car fleet Comprises of the most popular and commonly used vehicles in Africa. They include, the Land cruiser Prado, Safari Land cruiser, Safari vans and coaster buses among others alternatives. Regardless of whether sole, family or group travelers, we got you covered on either a self-drive trip or chauffeur driven car hire.
When you hire 4X4 Safari Cars with us, be assured to enjoy the comfort, relaxation and additional benefits that come along with our rental cars such as; GPS Navigation, Air Conditioning, Unlimited Mileage, Comprehensive insurance and a stand by Vehicle among others. it is important to not a safari vehicle is designed to carry a Maximum of 6 to 8 passengers built with ability to ensure a face encounter with nature.
Why hire Safari Cars for your Uganda road trip
Pop Up Roof/ Open Sliding roofs
Safari Vehicles have been designed with an open pop roof and window seats which gives you an insight to enjoy an interrupted wild game viewing experience with in the Savannah national parks in Uganda such as Murchison Falls National Park, Queen Elizabeth, Kidepo valley and Lake Mburo National Park among others.
Enough luggage spaces
They feature enough luggage space; thus, they have the capacity to accommodate the tourists' luggage incase seats have been fully occupied.
Ability to manage all road conditions
It is important to note that most of the Safari parks in Uganda are situated in far remote areas of the country. They are associated with poor road networks and the parks has have rugged rough terrain Road surface. However, a 4×4 safari vehicle features a strong engine and it has been designed with the ability to manage all road conditions in Africa regardless of whether wet or dry season, it is never disappointing compared to the small cars.
Perfect ideal option for a family
A safari land cruiser can accommodate over 5-8 people and there is enough leg room space to allow you comfort and they feature enough luggage space.
Ability to handle long and short-term trip
Whether long- or short-term voyage, 4×4 Safari vehicles are the perfect ideal with the capacity to manage challenging roads without breaking down. The safari vehicles have all road terrain tyres strong enough operate long trip with any mechanical repairs required.
Window seat design and air conditioning system
Most safari vehicles have been built with Window seats plus an air condition system to allow comfort and clear game viewing in the safari parks in reserves.
Customized and an extended body
4×4 Safari Vehicles features a strong customized and extended exterior body that manage all climate whether conditions that keep on changing unpredictably. Thus, allowing you a relaxing and stress-free tour in the Pearl of Africa.
Hired with a driver guide
Most Safari Cars are hired out with a driver guide that is well defined with all road conditions and offer an exceptional safari experience on a safari. Hiring a Safari vehicle with a driver gives you a unique experience compared to a self-drive where you always worried of getting lost and not sure of how safari experience will turn out to be like especially in foreign country like Uganda.
Offers the best Photography experience
Due to the open pop up roof, sliding windows and window seat, the safari vehicles assure you a rewarding and memorable photography experience on a Uganda Safari.
Without comprising on your safari experience in Uganda, we advise you to book a safari vehicle that can manage the nature of your favorite safari destination based on the above uniqueness presented about a safari car. And if you are interested in booking with Mumwe Safaris Uganda, simply get in touch with of professional and friendly reservation team assist you plan a dream life tour in Uganda with the best 4×4 safari vehicle of your favorite. Feel free to send an inquiry at info@mumwesafarisuganda.com or call us on +256-700135510 or Tel +256-414699459