The coaster bus is a mid-sized passenger vehicle manufactured by Toyota Motors . The coaster bus is a perfect option for group tours although it can be as well be arranged as transport for a wedding event, company get-away vacation or introduction ceremonies, school road trips, airport transfers among others.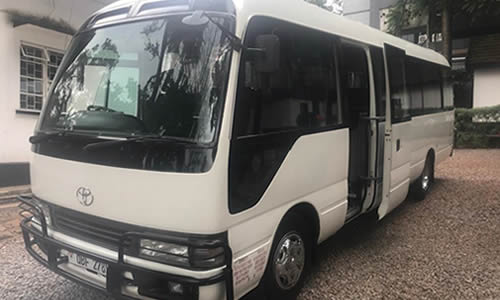 Are you planning a trip to the Pearl of Africa, book with Rent A Driver Uganda one of the leading local Rental agencies that prides in offering the most affordable and reliable bus car rental services in Uganda? We are glad to provide you a wide range of buses rental fleet that are well serviced, maintained clean and always hired out with a professional chauffeur driven driver guide that is well vast with knowledge about most of the safari destinations in Uganda.
Why hire a coaster bus in Uganda
Suitable for large groups
Coaster buses are one of the large safari vehicles that are designed to carry large groupers of travelers. Therefore, they are recommended for group travelers such as corporate travelers, school road trips, company get-away among others group trips.
Comfortable for both short- and long-term trip
The Coaster Bus features an air conditional system, enough cargo space for luggage and sliding windows thus allows an exceptional safari experience with your colleagues.
Can be Customized for Airport transfer
Travelers on a business trip can hire a coaster bus for their airport transfers. Delight in a chance to explore the Pearl of Africa with an exceptional driver-guide trained to offer an exclusive service to all travelers.
Affordable
A typical Coaster Bus is affordable especially on the side of group travelers and it accommodates big number of travelers. We offer our coaster buses at low as US$ 130 per day with professional driver guide and exclusive of Fuel.
Enough Luggage spaces
All coaster minibuses accommodate a maximum of 30 to 33 passengers and it features enough luggage cabins on the roofs as well as in the rear.
Planning a group road trip in Uganda and in need of a suitable minibus, you can hire a coaster bus in Uganda today by simply sending us an inquiry at info@rentadriveruganda.com or call us on +256-700135510 or Tel +256-414699459