Travel with the legendary Land cruiser V8 to any location of Uganda . This 4WD is a master of all roads that faces rough tracks and steep terrain. Made by the Japanese car producer Toyota, the land cruiser V8 is exclusively applicable to automatic transmission. To ensure safety of the road, the car has an airbag for the driver and for passengers. It further has a cruise control system to ease the work of the wheel controller.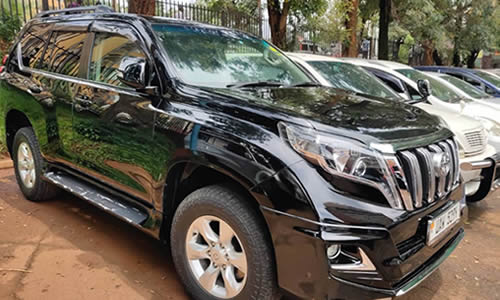 This car features a gas engine type, air conditioner to favor coziness, CD player to keep travelers entertained and a digital radio system to give updates about the area and country visited and the rest of the world. Designed with 5 doors, you can control access into the car by using the centralized door lock.
The 4X4 land cruiser has a seating capacity of up to 5 passengers with enough leg room and is ideal for business trips, VIP travel and other special occasions.
Why hire a land cruiser V8 in Uganda?
Luxurious interior
Traveling in a land cruiser V8 means a ride of luxury. The inner design of the car is impressive with the neat chairs and the entire environment. It offers a typical sense of class sitting in this car.
Strong and powerful
With a bold physical appearance, the land cruiser V8 is more powerful than you can imagine. It is one of the best recommendations for trips to areas with tough terrains. Its power and strength give great confidence for maneuvering even through muddy tracks. This car is ideal for off-road trips.
Spacious
The land cruiser V8 accommodates a maximum of 5 people, everyone sitting comfortably. The space between the seats is wide enough to allow you adjust to any position during travel. In case you want to rest, just lower the back of the seat and relax.
Multipurpose
Planning to hire a strong and luxurious car for business, conferences, airport transfer, wedding and introduction or safari to the park for an exploration of nature? Hire a land cruiser V8 for the preferred number of days where you could combine various activities.
Large cabin for luggage
If you are travelling with luggage or hope to return from your safari with a lot of property, this car has big space to fit it all.
At Rent a Driver Uganda, we have a variety of land cruiser V8 models that are well maintained, affordable and reliable. It is available for hire for self drive but can also be offered with a professional driver at a pocket friendly rate. With our great benefits of unlimited mileage and comprehensive insurance coverage, hire a car by contacting us via info@rentadriveruganda.com or +256 414 699459.