If you are a large group looking forward to travelling around Uganda or Rwanda together, then hire a coach bus from Rent A Driver Uganda for a great trip. Choosing to rent a coach bus from a trusted car hire company over using public transportation saves you from the hustles of travelling with public buses in developing counties like Uganda such as delays.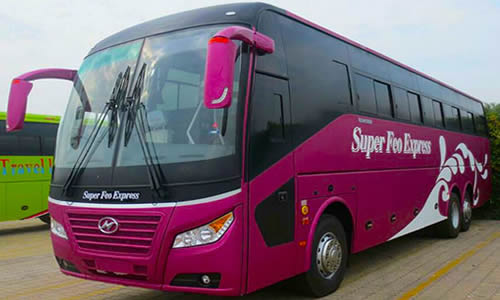 Whether you want an executive bus or an ordinary one, feel free to contact us and experience our superb customer services. The executive bus features two columns and two seats per row while the ordinary bus has two columns with two seats on one row and three on the other. The chauffeur driven coaches accommodate 40-60 passengers.
Our 4X4 coach buses are good for trips around the cities Kampala and Kigali and other destinations in the country side. Make your safari easy and enjoyable with a selection of well serviced coach bus from Mumwe Safaris' fleet.
Why hire a coach bus
Affordability
Instead of hiring multiple vehicles for the large group of travelers, it is advisable to hire a single coach bus to carry all the passengers. In so doing, the cost of hiring the bus becomes less costly that renting many small cars. Besides that, our coach buses are hired out at pocket friendly rates.
Large space
A traveler enjoys their trip more when they sit in a spacious environment of the vehicle. Coach buses have seats that are big enough and the executive ones have ample leg room to allow you adjust in different sitting positions. They also feature inner cabins for passenger luggage, even the lighter luggage doesn't have to bother you during your awesome trip.
Speed
A coach bus is faster than smaller vehicles and therefore an ideal option for big groups going on long trips. If you are planning to travel to the country side, hire a coach bus so as to arrive faster compared to when travelling with small-size cars.
4WD
When you hire the 4X4 wheel bus, be sure to maneuver through the rough roads of Uganda with ease. In addition, moving on tracks with pot holes is a walk over because the bus has magnificent tires.
Perfect for game viewing
Since coach buses are designed in a way that they are high with raised seats, they make wildlife and sight-seeing incredible and you can also view attractions that are far away.
Comfort and convenience
Our executive coach buses have a very comfortable interior. It has smart seats which can be bent when in case you want to sleep. The Coach Bus features an air conditioner plus a number of windows which can be opened at any time to allow in fresh air.
Looking for favorable long-term or short-term rental services for coach buses? Contact us today for details and reservations. Our ever-ready professional reservations team is ready to serve you instantly. Reach us through info@rentadriveruganda.com or +256 414 699459.