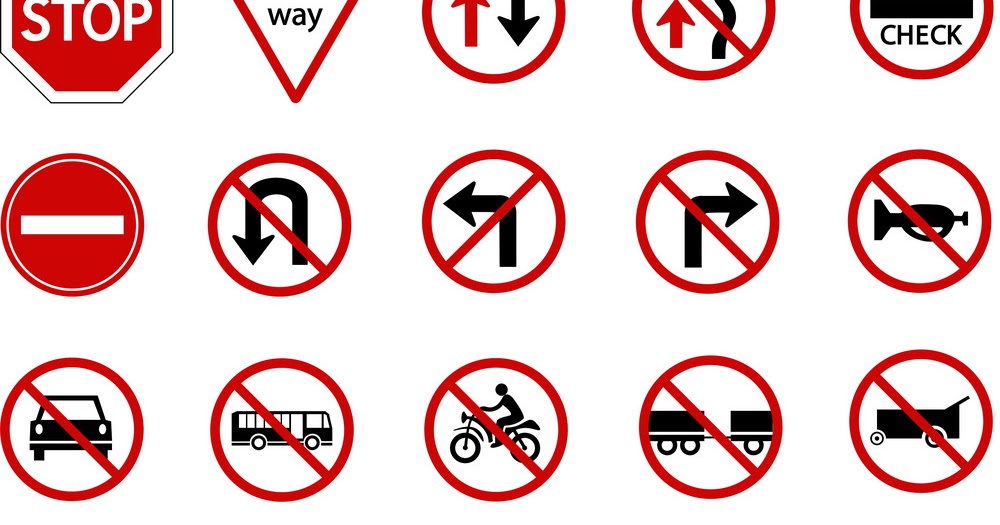 Top 15 Traffic Road Signs To Obey When Driving In Uganda
 Whether you are driving on a highway or in a city in Uganda, it is important to consider offensive and defensive driving to be a good driver and also be safe on these roads. Talking of the state of roads in Uganda, the roads are fair and some are perfect as they have been recently worked upon. As you drive on these roads, you will come across several road signs including regulatory signs, warning signs and guide signs which have been indicated for safety and efficient movement. In this article, we bring you the top 15 traffic road signs you are advised to obey when you self drive Uganda this season;
Stop sign
This is an octagonal post with the word stop. It notifies the driver that they have to stop. Stop signs are commonly found in junctions of main roads. As you get close to this sign, you are advised to stop and slowly assess the situation, making sure that there is no other car coming from the opposite side of the road.
Traffic lights
Designed in 3 distinct colors; red, yellow and green, the lights have varying instructions which have to be followed. The red light asks the driver to stop, yellow is a warning that the light is about to change to red while green light allows you to continue with the drive.
Speed limit
These signs are used to set maximum speed to move on specific locations of the raods. Depending on where you are driving, you will find different speed limits which are set per hour.
Zebra crossing
This sign comes in black and white just like a zebra coat. It is marked on the road surface and is there to notify you to give pedestrians their rights of the way. In case you come across it and there are people waiting to cross, simply stop and let them cross, then you can proceed with the movement.
Yield sign
Also known as "give way sign", it is designed to instruct a driver to slow down or stop where possible so as to create way for the other vehicle. If you come across thins sign, do not continue to the main road but rather stop and give way to the other party.
No parking
The traffic road sign limits drivers from parking in specific areas. You can only park and leave shortly in less than 5 minutes if you are picking or dropping off a passenger.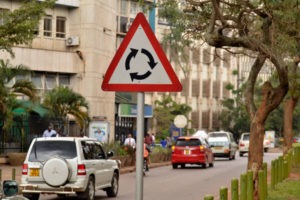 No overtaking
You will notice lines parallel on the road surface changing over time from a broken to a continuous line. No overtaking instruction ends when the continuous line changes to a broken line. They are always found in corners/bends and hilly areas. Failure to observe these signs is a high risk of causing terrible accidents.
No U-turn
The sign is indicated with a curved arrow and a bright symbol cutting across it to show that the act is prohibited. The driver must not change the car to the opposite direction at this specific point of the road.
Men at work
These are normally temporary warning signs that there are some road works going on ahead. The signs are indicated in bright colors so that careless drivers slow down as soon as they observe them.
Permitted parking signs
These come in greed legend on a white background. They show that there are demarcated and safe areas for parking.
Emergency car warning signs
The sign alerts the driver on an emergency car that is coming, for example ambulance, fire station cars and other emergence vehicles. When you are in an area with such signs, give way to the emergency car and you can thereafter join the road and proceed.
Crossroad curves
This sign means that there are two roads crossing each other ahead and you need to reduce speed because other vehicles might be getting into the road or junction.
Round about
Indicated by arrows in a circular format. It is important to reduce speed as you approach a roundabout because traffic is flowing from and to different routes, maximum order is required.
Humps ahead
This is a very significant sign that prepares you for the humps ahead of you. When you see this sign, endeavor to reduce speed because it is risky to bump into them as it can cause accidents.
Slippery road
Take note of this sign to avoid unnecessary inconvenience of getting stuck on the slippery roads.
Planning a self drive road trip in Uganda this season, well you should strictly obey these traffic rules to avoid getting on the wrong side of the law or even worse. To hire a car & driver in Uganda today, simply get in touch with us by sending an email to info@rentadriveruganda.com or call us now on +256-700135510 to speak with us now.