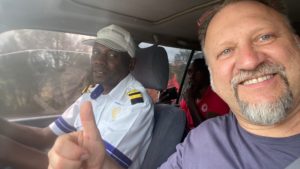 8 Hot Tips For Renting A Car In Uganda
There is no better of exploring a new country than by getting behind the wheel and hitting the open road. The majority of travelers prefer to rent a car over using the unreliable public transport means in African countries. You won't have to worry about getting squeezed with a bunch of strangers, losing your cargo or being delayed for your trip when you decide to travel in a private rental whether it's a self drive or with a driver.
Uganda is one of the most alluring destinations in Africa visited by thousands of tourists who like to book rental cars for guided and self drive safaris in Uganda. Rent A Driver Uganda is one of the most prominent Uganda car rental agencies and we are proud to present to you all the information you need when hiring a car in Uganda. The article will cover everything from booking and documents to which car to choose for a particular destination.
Read through and find out things you should look out for when you decide to rent a car in Uganda for self drive or driver-guided trip this season.
1-Book in advance
Travelers are advised to book their rental cars as early as possible to avoid missing out on their ideal car because of unavailability or price hike due to peak season. Booking weeks or months beforehand gives you the opportunity to get discounts or easily haggle for the cheapest price.
2- Choose a company after careful consideration
There are a majority of Uganda car rental companies to choose from so don't rush in for the first one you find online. Consider and compare their varying requirements, rental prices and policies to ensure you get the best possible deal that suits your budget and personal needs. Check and see if the company is a legitimate business and read through some reviews from past customers for further insight into who you are dealing with.
3- Best Vehicle Types
The small sedans. luxury cars and cross-over SUVs are best for city road trips while the strong rugged 4×4 vehicles with high ground clearance are perfect for off-the-beaten-track poor roads outside the city. The safari land cruiser, van, Rav4 and Land Cruiser Prado are very popular 4×4 cars for hire in Uganda that can seat between 5 to 9 people comfortably with special features like a pop-up roof and roof-top tent. Make sure you choose a car that not only fits the number of people you are traveling with but also your budget.
4- Required documents
Not a lot is required to rent a car in Uganda only a nationality ID, passport, driver's license as well as proof of reservation. Foreign travelers are expected to produce and International Driver's License that permits them to drive within any country they are visiting. Some companies will require you to leave behind a security deposit of you planning to self drive in Uganda.
5- Where to rent a car
The majority of car rental companies in Uganda are located within the city while a few can be found in Entebbe city close to the International airport. Some companies put a surcharge fee for transferring the car at the airport hence you should avoid picking it up from there, but others will just deliver the car free of charge. Any pick-up or drop-off outside Kampala & Entebbe will incur an extra cost. It's best you pick up the rental car from the office and drop it in Kampala or at the airport.
6- Renting a car with a driver
The safest and most comfortable way to travel around Uganda is with a professional driver but it comes at an extra cost that will cover his fees. meals and accommodation during the trip. Driving in Uganda is no 'walk in the park' and requires a good knowledge of the roads and how to manage traffic officials. You won't have to worry about that when you decide to hire a driver in Uganda for business or a safari holiday. Just sit back, relax and let your personal driver do everything for you.
7 – Quick self drive tips
If you are planning to self drive Uganda this season then you should be ready to strictly obey the traffic rules and regulations in Uganda to avoid getting on the wrong side of the law. Most of the roads in and leading to the city are asphalt while those in the remote regions are murram and some are unpaved with rugged terrain. Obey the driving speed limit on each road and also avoid overspeeding, overtaking and driving at night if you value your life and property.
Remember to always choose the right rental car that can handle the terrain, fit passengers and cargo comfortably and offer at a reasonably affordable price that suits your budget. You can rent a car in Uganda today for self drive or driver-guided trip by simply sending us an email to info@rentadriveruganda.com or call us now on +256-700135510 to speak with our reservations team.
Bryan Muhoozi