The 3 Best Ways Of Traveling To Murchison Falls Park
Established as early as 1952 by the British protectorate government straddling across 4 districts is Uganda's largest national park that covers up to 3,893 km and is bisected by the Victoria Nile from east to west. The most popular safari park in Uganda along with the adjacent Budongo forest makes a home to an estimated 144 mammal species and up to 556 bird species not to mention the 51 reptile and amphibian species that roam the land and Nile waters. The star attraction of the park is the dazzling Murchison falls; the strongest and most beautiful falls on the Nile between Lake Kyoga & Albert.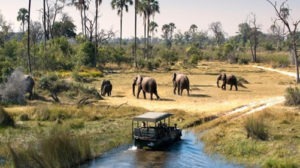 Some of the most popular activities to do on self drive or guided Murchison falls safari adventure include the day & night game drives, launch trips to the bottom of Murchison falls, hiking to the falls top, nature walks, bird watching, hot air balloon trips, community visits, sport fishing & chimpanzee tracking in Budongo forest. A trip to Murchison falls park offers travelers a chance to encounter 4 of the iconic Big Five species namely the Lion, Leopard, Cape buffalo, and African elephant with the Rhino being easily accessed at the neighboring Zziwa Rhino sanctuary along Masindi road.
Have you finally decided to safari Murchison falls park this season but still wondering how you will get there, Rent A Driver Uganda presents the best 3 private ways you can easily get there to help you make the right decision that suits your budget as well as personal needs.?
1- Rent A Car  
The safest and most comfortable way of traveling to Murchison falls is renting a car in Uganda either for self drive or with a tour guide. Self-driving to the park is the cheapest option and offers more privacy and flexibility as you get to drive wherever you want at your own pace whereas a guided road trip is a much more convenient option as you let the tour guide do all the driving and handle all car issues that may arise during the trip. Whichever option you choose, you can always be guaranteed an amazing road trip when you rent a car in Uganda for your next safari adventure in Murchison falls park. Rent A Driver Uganda offers a wide range of rental cars including 4×4 cars, SUVs sedans, minivans, and buses ideal for park tours.
2 – Book A Flight 
One of the most unique ways of getting to Murchison falls park is by boarding a domestic flight from Entebbe airport to the park and back. The park has 3 operating airstrips namely Pakuba, Bugungu & Chobe where you will land in an hour and then transfer to your safari lodge in Murchison falls park. You can also fly in from Kidepo valley or Queen Elizabeth national park in case you are on rounda trip. Aerolink is the leading domestic flight agency in Uganda guaranteed to give you that safe and comfortable plane trip to the park, you can book a flight online through a travel agency or directly at their offices in Kampala & Entebbe.  You are allowed to carry only 15 kilos of luggage and an extra freight cost will be charged, so book a flight with that in mind.
3- UWA Buses
The Uganda Wildlife Authority is a body that governs, manages and regulate Uganda's wildlife , protecting and conserving both the environment as well as inhabiting species. UWA recently launched the UWA tour buses to offer private group transportation for both local and foreign tourists looking to avoid the high-end costs of booking a private safari with a tour operator or renting a car from a Uganda car rental agency. The UWA buses can accommodate up 50 people with an AC, free Wi-Fi, TV screen plus comfortable well spaced seats.  A  1 day bus safari to Murchison falls will cost UGX 400,000 per person and payments are made online or directly at the UWA offices in Kampala city.
So if you plan on visiting Murchison falls national park this season and wondering which means to use to get there, the above 3 ways are guaranteed to give you that safe, comfortable and timely road trip. Rent A Driver Uganda offers well serviced rental cars in Uganda along with professional drivers to ensure you get an amazing informative road trip to Uganda's most popular and visited. To book a rental or Murchison falls safari package today, simply get in touch with us by sending an email to info@rentadriveruganda.com or call us now on +256-700135510 to speak with the reservations team.