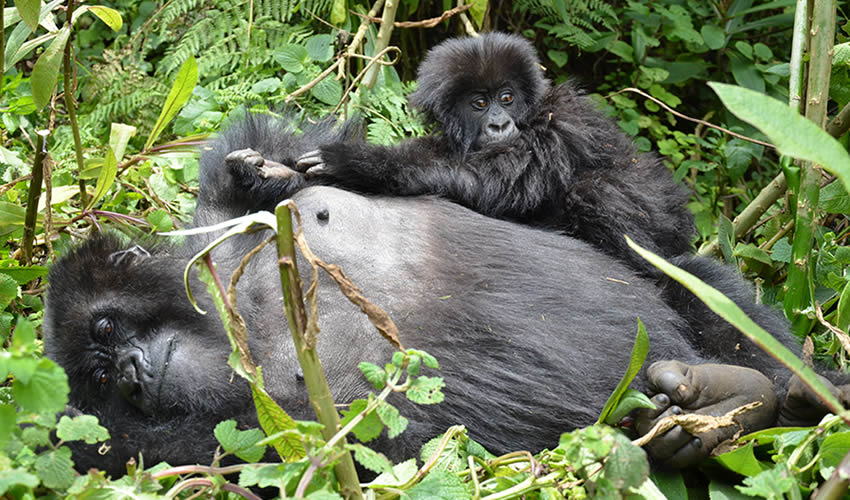 How to Book Gorilla Trekking Permits in Uganda
A gorilla trekking permit is described as a document issued out by the Uganda wildlife authority to allow you participate in the gorilla trekking experience in any of the national parks that harbor the endangered Mountain Gorillas. You can book for a gorilla trekking permit through a trusted Tour Operator in Uganda like Mumwe safaris or book directly with the Uganda Revenue Authority.
However, we advise travelers to book the gorilla trekking permit with a Tour Operator because it is easy and faster compared to booking with UWA where there is a lot of hustle involved during the booking process. And another additional benefit of booking with a Safari Operator, they can assist you organize the entire gorilla safari since they have got wider knowledge about the gorilla families, about various accommodation options as well as knowledge about the nearby communities thus they can assist you arrange your safari itinerary and also book you a suitable accommodation plus all the transportation. Therefore feel free to contact our professional reservation team here at Mumwe Safaris, we can assist you book your gorilla trekking permit as well as arrange the a thrilling memorable gorilla safari.
Alternatively, If you are interested in booking your gorilla trekking permit with the Uganda Wildlife Authority directly by sending an email to the UWA reservation office. The UWA reservation team assists you provide the availability of permits on your dates of travel and if there are no permits on that date then you can request them to update you about the nearest dates when they will be available.
It is also important to note that gorilla trekking in Uganda in done two destinations which include; Bwindi Impenetrable forest national park and Mgahinga gorilla national park, unfortunately due to the unreliable gorilla families in Mgahinga gorilla national park, Gorilla trekking experience in best done in Bwindi Impenetrable forest national park. Therefore when booking for the gorilla trekking permits, it is crucial that you be specific on which park you would like to visit out of the above two.
Gorilla trekking Uganda starts with briefing at UWA park offices. Here you are grouped into groups of 8 and given a park ranger guide. You are grouped depending on your level of fitness and which gorilla family you are going to trek. Bwindi impenetrable forest national park is worldwide known as the outstanding gorilla trekking destination since it is home to almost half of the remaining mountain gorilla population in the world.
Apparently, the park hosts about 19 habituated gorilla families that have been made available for gorilla tourism. Gorilla trekking in Bwindi forest has been made simple and extremely exciting by dividing the park into four sectors that harbor the various 19 gorilla families in the park. These sectors include; Buhoma sector in the north, Rushaga sector in south, Ruhija sector in the East and Nkuringo sector in the south.
Best time to book for your gorilla trekking permit
When to book for a gorilla trekking permit in Uganda is a frequently asked question by a lot of visitors. We advise tourists to book their gorilla trekking experience at least 6 months prior to the date of travel although the Uganda Wildlife authority allows booking up to two years prior your date of travel. The booking date should target the dry season or peak season which is the time to go gorilla trekking. This is in the months of June to early October and December to full end of February when there is little or no rains expected to interrupt the trekking exercise.
However during the dry/ peak season, the gorilla trekking permits are on a very high demand and very competitive thus they get sold out very fast therefore, remember to book in advance so that you don't miss out of the stunning jungle adventure.
What is the cost of the gorilla permits in Uganda
The gorilla permits in Uganda is 700 USD per person per experience apparently for the Foreign non Residents, 500 USD for the foreign residents staying in East Africa and Shs 250,000 for the East African residents. As earlier mention, you will not be able to go gorilla trekking without purchasing the gorilla trekking permit. And tourists should note that the Uganda Wildlife Authority abolished low season discounted gorilla trekking permits in Uganda thus they no longer exist.
To after confirming the gorilla permit availability, proceed by sending your tour operator the personal details such as, passport number, name, telephone number, nationality and the date of birth. Later you will have to proceed with payments as well as informing your safari operator about the date of travel you would like to go gorilla trekking.
After booking for gorilla trekking permit, you will receive a scanned copy of your gorilla trekking permit with in a few weeks or days and Upon arrival your Tour Operator has to provide you an original copy of your gorilla trekking permit before you proceed your journey to the park to participate in the exercise. And if you booked with UWA then you will have to go to their head office to collect it. Your gorilla trekking permit features a unique serial number plus your Personal details written on it. For more information on how to book a gorilla trekking permit in Uganda, contact our professional reservation team here at Mumwe safaris by sending an inquiry at info@rentadriveruganda.com or call us on +256-700135510 or Tel +256-414699459