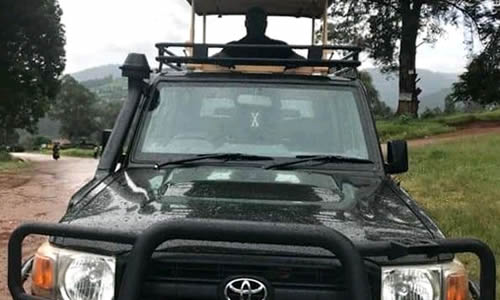 Best 4×4 Safari Car Rentals in Uganda
Mumwe Global Safaris offers a number of 4X4 safari rental cars in Uganda for all kinds of tours and to different destinations in Uganda. the cars are well serviced and in the perfect condition to comfortably and confidently take you exploring off the beaten tracks of the Uganda national parks. Whether you need a safari car for self drive or with a safari guide, we are at your service with the best cars.
Are you a solo traveler or travelling in a small or big group and looking for a car that will perfectly serve your needs? Here is a list of the best 4WD cars ideal for your safari tours in Uganda this season;
Safari land cruiser
The car is ideal for wildlife tours to national parks and out-door camping. The seating arrangement gives great comfort and aeration for travelers. It has a pop-up roof to allow tourists enjoy the clearer beautiful views of wildlife and landscapes. A safari land cruiser accommodates up to 4 people and has a wide luggage area in the rear.
Extended safari land cruiser
Just like its name says, this safari car has an extended body which allows it to accommodate up to 7 people. It is tough on rough roads and leaves travelers comfortable during long distances. The safari land cruiser features a pop-up roof for more stunning views during game viewing. Seats are well spaced, windows are wide enough for perfect in-car viewing and is air-conditioned. It also has a wide luggage space in the rear area.
Toyota safari van
This 4X4 Toyota van is one of the most suitable and mostly hired cars for group trips in Uganda. The 9 seater van is liked for its friendly fuel consumption besides being stable, affordable and comfortable. The car has a large luggage area and also features a pop-up roof that allows travelers to stand, get better views and take clearer photos.
Toyota Rav4
The Toyota Rav4 is the most commonly hired 4WD car for self-drive tours in Uganda. The 4- seater SUV is a good fuel economizer and also one of the cheapest rental cars for safaris. It has a full time 4WD that enables navigation through dirt roads. The Toyota Rav4 is a perfect car for camping tours.
Super custom
Manufactured by the Japanese automobile Toyota, the Toyota super custom is looked at as an alternative for the safari van but a luxury option. It is as well a good option for small groups like families, it accommodates up to 7 travelers including the driver. This mid-sized vehicle features an air conditioner, pop-up roof and a wide space for luggage in the rear area.
Coaster bus
With a seating capacity of about 30 people, this mid-sized bus is perfect for group tours. Traveling in the same car on a safari is a wonderful way to enjoy a group trip in Africa. The mini bus has well-spaced seats, air conditioner and MP3/CD/DVD to keep travelers entertained during relaxed journeys.
Planning for a safari in Uganda this season and you are in search of a safari car? At Mumwe Global safaris, we offer the best safari cars at competitive rates for all sizes of groups. Book for your preferred type of car for your safari today by sending an email to info@ugandacarrentalservices.com  or call us on +256-700135510 / +256 414-699459 to talk to the reservations team.