11 Days Rwanda Uganda Safari Adventure With Herbert Musuza
I have been driving for over 8 years in Uganda & Rwanda, taking tourists to some of the best tourist spots but always doing a one-country safari not two at once. This year i got the chance to do a Uganda-Rwanda safari with a couple from Croatia- Ivan & Anna Marija. They decided to rent a land cruiser in Uganda where the whole road trip began, i was chosen as the driver due to my adequate knowledge of destinations in both countries. The itinerary was truly well crafted taking us to some of the most popular parks and attractions fusing culture, history, adventure and wildlife into one of the most memorable road trips i ever had.
My name is Herbet Musuza and this a what happened during our 12 Days Uganda Rwanda road trip with Ivan & Anna Marija.
Day 1- Transfer to Jinja
I picked up Ivan & Anna at their hotel in Entebbe as early as 7 am and we started our journey to Jinja where they wished to spend a night before embarking on the cross-country adventure. The road trip lasted about 3 hours using the Entebbe highway and Kampala-Jinja roads. we checked in at the Wild water's lodge– one of the most beautiful luxury safari lodges in Jinja overlooking the Nile on Kalagala island.
Day 2- Transfer to Murchison Falls park 
After an amazing overnight sleep, we were ready for the next destination and that is Murchison falls park- one of the most popular national parks in East Africa renowned for its beautiful Nile falls as well as iconic wildlife species. The road trip from Jinja to Murchison falls park lasts about 5 hours using the Kampala-Masindi road, we made stop over at the Zziwa Rhino sanctuary – home of the rhinos in Uganda. After spending some time with the rhinos taking pictures and observing them feed, we conditioned our journey to Masisndi where we had lunch before proceeding to Murchison falls park. We checked in at bamboo village for dinner & overnight stay.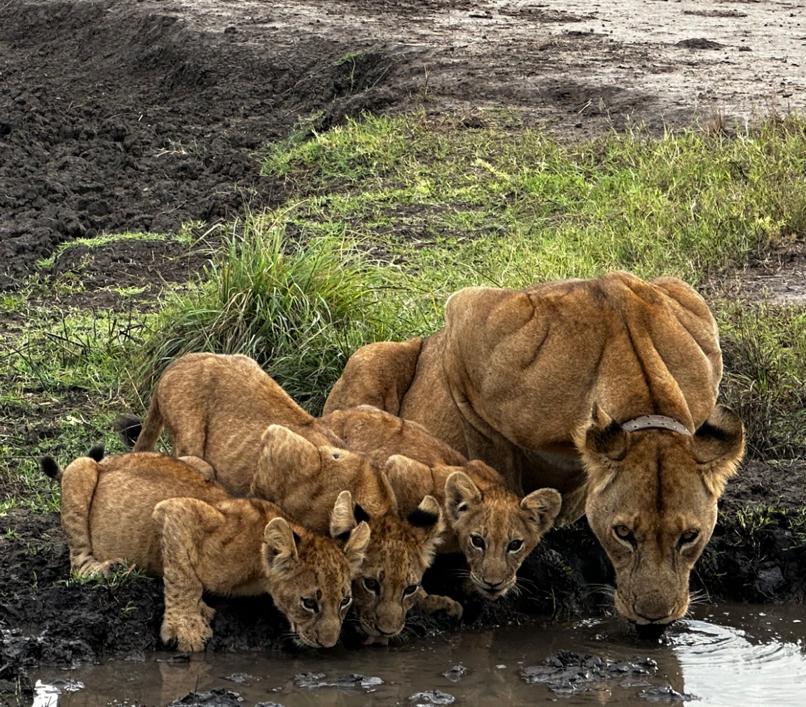 Day 3 – Game drive and boat cruise
The third was a truly amazing one, especially for Ivan & Anna who got a chance to see lions, antelope species, Elephants, warthogs, giraffes, hippos plus a variety of birds among others on a 3-hour morning game drive through the park. The Land cruiser was perfect during the game drive giving Anna & Ivan a comfortable tour around the park. I drove them back to the lodge for lunch and some relaxation before we headed out to the shores for a launch trip to the bottom of Murchison falls. They enjoyed sighting of several land and water species including the enormous African fish eagle and Nile crocodile resting on the river banks. After the boa cruise, we drive back to the Bamboo lodge for dinner and overnigh stay.
Day 4 – Transfer to Kibale forest
After an early morning breakfast, we checked out of the lodge and prepared for the trip to Kibale forest- another popular destination renowned for having the largest population of chimpanzees plus other 12 primate species and up to 370 bird species. The road trip from Murchison falls to Hoima lasts about 5 hours using the Kyenjojo-Hoima road. We checked in at the Turaco Tree top just in time for lunch. The while evening was spent just relaxing and enjoying the awesome views of Kibale.
Day 5- Nature walks in Kibale 
Ivan & Anna were not interested in tracking chimpanzees as they had their eyes set on the incredible mountain gorillas. We booked a tour-guide and set off for a nature walk starting from Sebitoli, we traversed the villages that surround Kibale taking pictures and getting a chance to meet the locals (Bakiga & Batooro) along the way. It was tiring experience but truly worth every step. We trekked back to Sebitoli and hoped in the Land cruiser Prado for a drive back to the Turaco tree top lodge for dinner and an overnight stay.
Day 6 – Transfer Queen Elizabeth national park
The Uganda-Rwanda safari continued with a trip to another famous wildlife park; Queen Elizabeth park – home to up to 90 mammal species and over 600 bird species making it one of the most diverse parks in Uganda. The road trip from Kibale forest to Queen Elizabeth national park lasted about 2 hours using the Fort Portal-Mpondwe road, we checked in at the Observatory Queen Elizabeth lodge.  In the afternoon, we hopped in the Land cruiser and drove to Kazinga channel for a boat cruise along the Kazinga channel. The views of different animals resting on the shores and enormous crocodiles and hippos swimming was such a site.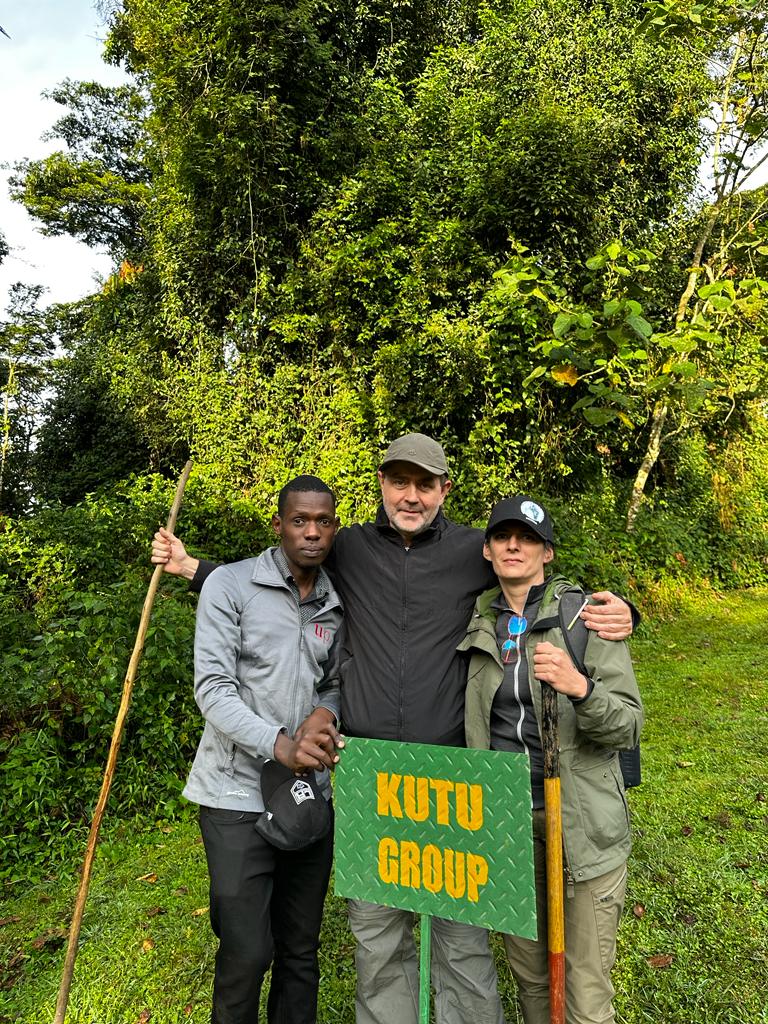 Day 7 – Game drive & transfer to Lake Bunyonyi
After an early morning breakfast, we embarked on a game drive through the Kasenyi plains where the majority of mammals and birds roam Queen Elizabeth park. We encountered a variety of mammals including Elephants, Hippos, Buffalo, Giraffes, Uganda kobs to mention but a few. We continued our road trip heading to Lake Bunyonyi– one of the best places to relax with magnificent views of the islands and hills that surround the lake. We arrived at Byona Amagara camp after a 5 hours drive using the Kabale-Mbarara road- checked in for dinner and overnight stay.
Day 8 – Transfer to Bwindi forest
After an early morning breakfast at the camp, I drove Ivan and Anna to the shores of Lake Bunyonyi for a water trip in a dug-out canoe. They even got a chance to meet a Zebra pregnant with a Donkey's kid something that really surprised all of us as it was the first time i had heard of it. We checked out of the camp after lunch and drove to Bwindi forest with the trip lasting about 3 hours using the Kabale-Kisoro road. We checked in the the La Chahaffi lodge in Rushaga for dinner and overnight stay.
Day 9 – Gorilla trekking adventure began.
After an early morning breakfast, we proceeded to the Bwindi forest for a gorilla tracking expedition. I wasnt goingf to track and so i left them in a group guided by UWA officials. They spend over 4 hours searching for the gorillas and when they came back they showed me pictures and vidoes of the whole experience. We drove back to the lodge in the evening, relaxed and waited for Ivan & Anna's gorilla certificate chatting around a campfire.
Day 10 – Transfer to Rwanda
We checked out of the lodge and prepared for a 3 hours road trip from Bwindi to Ruhengeri where Volcanos park is situated. We checked in at the Gorilla luxury lodge, had lunch and prepared for a 6 hours hike on Mount Bisoke, one of the 8 Virunga volcanos. The hike offered us chance tpo get great views of the hills and valleys plus crater lakes and though it was tiring- it was worth it.  We headed back to the lodge for dinner and overnight stay.
Day 11 – Transfer to Kigali city
We finally ended our trip heading to Kigali city for a short trip around the city ending the Uganda-Rwanda safari.
Overall i had great time and also made sure Ivan & Anna enjoyed the whole trip, we had no issues with the Land cruiser plus the accommodation was top notch. Are you planning to explore Uganda or Rwanda and require a 4×4 and driver for the trip, you can hire Herbert Musuza as your personal driver given the level experience and client handling.
To hire a driver in Uganda for park safari, business or leisure road trip,simply get in touch with us by sending an email to info@rentadriveruganda.com or call us now on +256-700135510 to speak with our reservations team.