Getting around Uganda and Rwanda in Executive Rental Vans is one way most travelers make lifetime memories of their trips in the destinations. These vehicles are convenient for family and group tours. Make Mumwe Safaris your travel partner and get the best van rental deals by hiring from our fleet that consists of Hiance Drone, Super Custom, Toyota Alphard and more.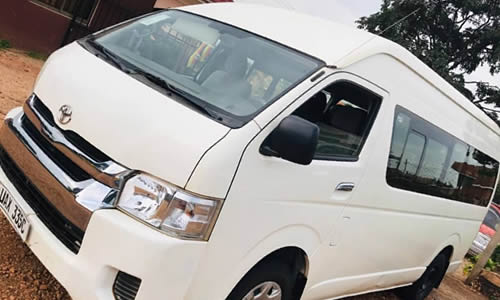 Whether you want an executive van for a long term service or short term, we are at your service with well serviced cars to help you get the best of your travel needs. They are available for hire for self drive and those seeking a relaxed and easier travel can rent the car with a professional chauffeur.
Why hire Executive Rental Vans
Suitable for safari tours
Since Executive Rental Vans have a strong engine, they can manage trips covering long distances for example from the capital to up country. An executive van like super custom is ideal for hire to destinations of wildlife for adventure.
Good for groups
If you are planning for a group or family tour in Uganda or Rwanda, consider hiring a car that can handle all passengers in the same car because this idea also saves the cost of transportation. Big executive vans accommodate up to 12 people. Besides this, it is also a good experience to travel together as a group that started the journey as one.
Fuel economizers
Executive Rental Vans consume less fuel yet they carry quite a high number of people. Vehicles like the Hiance Drone can sometimes be used electrically.
4X4 Strength
The 4WD system is preferred by almost everyone because it gives confidence to drivers and their passengers to go through challenging terrains and the poor roads of developing countries like Uganda and Rwanda. Be sure to manage such roads when you hire executive vans for your trip.
Manual and Automatic transmission
Our executive vans are applicable in both automatic and manual transmission. You can hire one or more of which is convenient for you to drive to your destination.
Elegance and class
It's not only the Mercedes Benz that give classic and luxurious travel experiences but cars including the Toyota Alphard and Hiance Drone as well. Their homey interiors with neat seats and a comfortable environment give a nice relaxation throughout the trip.
Are you looking for a van for business, adventure, an airport transfer, to visit family or friends or you have a wedding to attend? We have stunning executive vans for hire at affordable prices. Contact us today for details of our services and reservations by sending an email to info@rentadriveruganda.com or make a direct phone call on +256 414 699459.