I am Kazarwa Shanice, a loyal and passionate female driver in Uganda with over 6 years of experience driving in Uganda as well as Rwanda. Empowering women drivers motivates me and that's why i do my job the best way i can make sure my clients are not only safe and enjoy a comfortable ride to whichever destination they choose.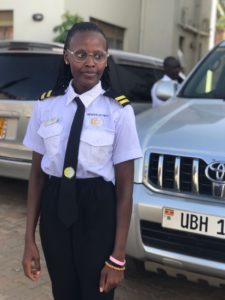 I started my driving journey at J&K driving school, one of the best driving schools situated in the heart of Kampala city. I graduated and have a valid CM driver's license plus adequate driving skills as well as mechanical knowledge. I am very fluent in English, Luganda, Lunyarwanda, Lunyankole and a little bit of Kiswahili so you won't have to worry about any language barrier when you choose Kazarwa Shanice as your driver in Uganda for the next road trip.
Destinations traveled – I have had the privilege of exploring more than 15 top destinations in Uganda & Rwanda including Kampala city, Kigali city, Jinja, Murchison falls park, Queen Elizabeth park, Bwindi forest, Kisoro, Kabale, Gisenyi, Lake Mburo park among others. My experience has helped me gain a lot of knowledge about routes taken to get there as well as up-to-date information about the places, wildlife, nature & people hence you can be assured of an informative road trip when you book me as your personal female driver-guide in Uganda.
Cars Driven – I like to drive SUVs as well as 4×4 safari cars both automatic and manual transmission. Some of the top models i have driven include sedans, Land cruisers, Rav4 & Super custom vans. I always make sure the car is in good condition, clean and most importantly well air-conditioned for maximum comfort during the road trip.
Are you searching for a professional driver for hire in Uganda for your next road trip and would prefer a female, I would be more than honored to guide you around some of the most popular destinations in Uganda & Rwanda. To hire a car in Uganda with Kazarwa Shanice as your driver, simply get in touch with us now by sending an email to info@rentadriveruganda.com or call us now on +256-700135510 to speak with our team.