Am Jonan Aruho aged 33 and a Ugandan. I am a professional driver holding a valid driving license. I have driving experience of 11 years currently and have been driving with different organizations and companies among which are Uganda car rental services, Mumwe African Skimmer Safaris, ACODE Uganda and so many more.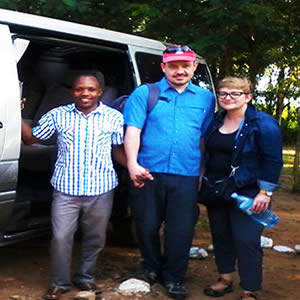 I am a qualified driver with certificate in Motor mechanics and maintenance and I take pride in what I do.
I have been to various districts and destinations in Uganda including Queen Elizabeth National Park, Murchison Falls, the Elgon Mountain, and Jinja Nile source, Mt. Rwenzori, Kibale and Bwindi Forest National Park.
I have also done extended tours to Rwanda, Tanzania, Kenya and Burundi.  I have skills, in time management, customer care, very audible in speech and very hospitable.
Languages: Jonan Aruho is very fluent in English and Kiswahili very fair in Kinyarwanda.
Best vehicles: I am good at types of vehicles, both automatic and manual transmission.