I am Haruna Kakimba, a professional Ugandan driver with a valid driver permit and  over 18 years experience on the road with a driving school certificate from Prestige Driving School, one of Uganda's best training schools for drivers.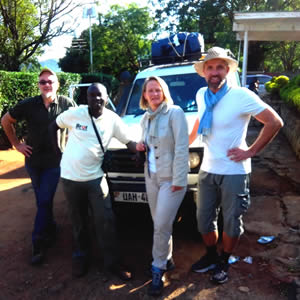 I have adequate knowledge about various destinations in Uganda including Kampala city, national parks and any other popular attraction you would love to visit. My safari experience in Uganda, Kenya, Tanzania and Rwanda National Parks ensures you will get where you are going safely and most importantly you will get valuable background info about the destination, wildlife and people of East Africa.
Haruna Kakimba has trained under Uganda Safari Guides Association so you can be guaranteed you will get a memorable safari in Uganda, whether you are interested in gorilla tracking, game viewing, bird watching or prefer, he is the guy for the job. He also has that mechanical knowledge so you don't have to worry about fixing any breakdowns during a  road trip. Just sit-back, relax and let him drive you to your preferred destination.
Haruna Kakimba is well versed with a variety of local and international languages including English, Luganda, Kiswahili, Lusoga, Kinyarwanda, Runyankole among other local tribal languages.
Whether you want to visit a national park, local tourist attraction, remote village or tour around Kampala city, Kigali, Nairobi, Dodoma, I am ready to  to give you that comfortable and safe road trip experience worth every penny you pay.
Searching for a driver in Uganda, Rwanda, Kenya or Tanzania… choose Haruna for  seemless road experience you wont forget.
For further information contact us now on through info@rentadriveruganda.com or call us +256-700135510 or +256-414699459