I am Daniel Mutungi a 28 year old Uganda citizen. I am a professional driver with an experience of 9 years in transportation. I have 3 years course certificate in motor vehicle mechanics and general maintenance.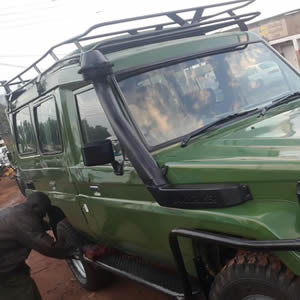 I have skills in tour guiding also, especially birding tours to different National parks, among which are Lake Mburo National Park, Queen Elizabeth National Park, Bwindi forest for gorilla tracking, Mt. Elgon, Kidepo and Mgahinga National Parks.
I have done tours to different destinations among which is the Ssezibwa Falls which are believed to have been given birth to by a human being, the fall has a twin brother  Mobeya though he is rarely spoken about.
It was the customs for a Muganda passing the source of the river to throw a handful of stones or grass into the river for good luck. So be ready to throw a stone in the river as we go by.
I have also guided tours to hoima district, to the Kabwooya-Kaiso game reserve and Lake Albert, some of the major touristic destinations in the Bunyoro region, as well as a direct route to the border with the Democratic Republic of Congo.
Languages: English, Luganda, runyankole, Kiswahili, Lukiga, lugwala, iteso
Best vehicles: Saloon cars, safari vans, land cruiser extended 4×4, station wagon.
Contact us to hire Daniel Mutungi as your professional driver.