Amazing drivers turn the trips and projects into wonders. Clients ride comfortably, get all necessary information and the tour is simply unforgettable. Arinaitwe Thomas is one of those drivers from Uganda ready to offer the best during your contract with him.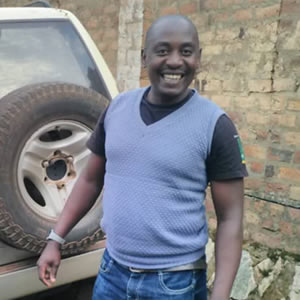 Thomas is a professional project driver with over 10 years of experience on the roads of east Africa. He perfectly operates saloon cars, 4WD vehicles like land cruisers, double cabin pickups and bigger cars such as a coaster bus.
As the saying goes "practice makes perfect", Thomas has travelled around Uganda and Rwanda so often and he therefore makes an excellent driver. He has a certificate in motor vehicle mechanics and possesses high skills in general car maintenance. The long period of riving has exposed him to a lot of knowledge about interesting places including national parks where he also takes visitors seeking fun and relaxation. Mr. Arinaitwe Thomas is ready to share lots of information about almost everything you see along during the road trip.
His ability to interpret and speak various languages eases his work in most regions of east Africa. He is good at Kiswahili, Luganda, Runyankore / Ruchiga and Rutooro. Considering international languages, English is appropriate.
Whether you want to book for airport transfers, projects, wedding, safari tours or any other special event, we got you covered with the best drivers. Contact us via info@rentadriveruganda.com for details and reservations.